ALTERED IMAGES (CLARE GROGAN) INTERVIEW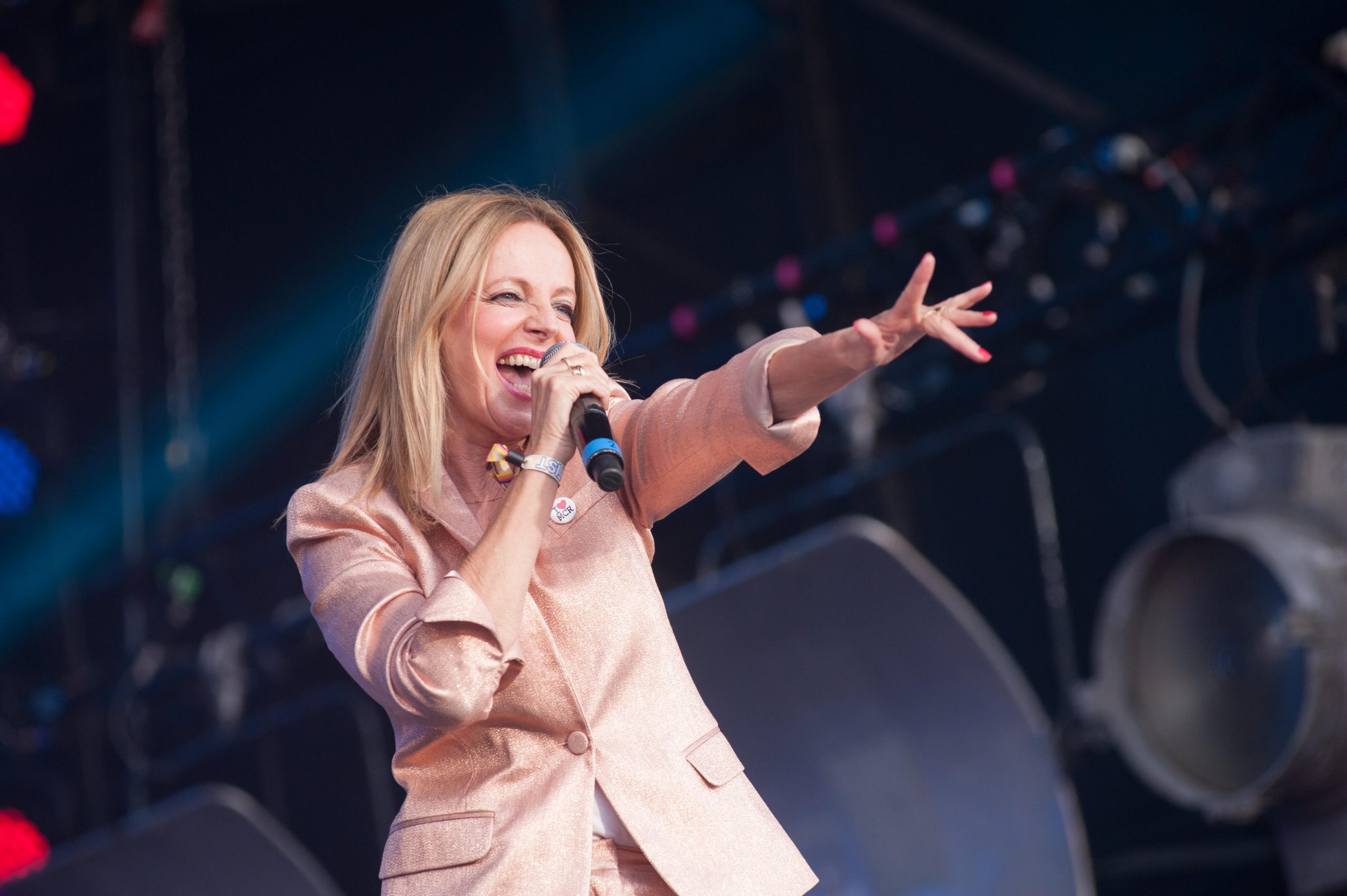 YOU HAVE A LOAD OF ALTERED IMAGES TOUR DATES LINED UP FOR THIS YEAR, WHICH IS BRILLIANT. FOR THE PURPOSES OF THESE SHOWS WHO'S IN THE BAND? YOU AT THE FRONT OF COURSE, BUT WHO ELSE IS ON STAGE?
I have a fantastic pull of musicians, mostly girls, but with some token boys, and I love them all. They are based in my hometown of Glasgow, so it's always fun going home to rehearse.
LAST TIME WE TALKED WAS BACK IN 2002, JUST BEFORE YOU RE-STARTED THE ALTERED IMAGES PART OF YOUR LIFE BY JOINING YOUR FIRST HERE AND NOW ARENA TOUR. YOU'VE DONE LOADS OF THOSE TOURS AND SHOWS SINCE THEN, BUT NOT SO MANY OF YOUR OWN SHOWS, SO WHAT MADE YOU DECIDE TO GO OUT AND PLAY THESE SMALLER VENUES THIS TIME AROUND?
Everything in my life is about timing. I'm a mum, so a lot of what I do is based around that, but my gorgeous daughter Elle is getting older, which has allowed me the space to think about doing more. On a personal basis I love the vibe in these smaller venues… I love the eye-contact and the chance to chat with the audience!
DO YOU GET NERVOUS BEFORE GOING ONSTAGE TO SING? AND IF SO THEN WHAT'S SCARIER, A HUGE ARENA CROWD WHO JUST WANT TO HEAR THE HITS AND THEN GET ONTO THE NEXT BAND, OR A SMALLER MORE FAN-ORIENTATED CROWD WHO ARE THERE JUST FOR YOU?
Yip, I'm always nervous before a show, no matter what's the set-up, but as soon as I hit the stage I have to let it go and just enjoy the moment. It's a privilege to be doing this and I never forget that.
I IMAGINE ONE OF THE MOST REFRESHING PARTS OF PLAYING YOUR OWN SHOWS IS THAT YOU GET TO PLAY ALL SORTS OF SONGS FROM THE ALERTED IMAGES CATALOGUE, AND NOT JUST THE HITS YOU NEED TO PLAY FOR THE RETRO SHOWS, BUT HOW ARE YOUR SETLIST CHOOSING SKILLS? IS IT AN EASY PROCESS FOR YOU, OR IS IT JUST A NIGHTMARE? HOW DOES IT ALL HAPPEN?
Well recently I was out running, and I was listening to a playlist on shuffle on when this track came on that seemed vaguely familiar – I loved it – and then I realised it was me. I was laughing and running, as well as singing along, all at the same time. That is how Another Lost Look found its way back in to the setlist after 35 years.
I KNOW THAT OVER THE YEARS SINCE ALTERED IMAGES YOU'VE CONTINUED WRITING SONGS, BUT MOSTLY FOR OTHER PEOPLE, IS THERE ANY CHANCE OF NEW MATERIAL UNDER THE ALTERED IMAGES NAME? SADLY I DIDN'T SEE ANY OF YOUR SHOWS LAST YEAR BUT LOOKING BACK AT THE SETLISTS I CAN SEE A SONG I DON'T RECOGNISE CALLED 'THE COLOUR OF MY DREAMS', IS THAT SOMETHING NEW?
The Colour of my Dreams is the latest song that I've co- written with my writing partner Stephen Lironi, who happens to be my husband as well. But yes, at last I'm writing new material with him, and will be writing with Bobby Bluebell and Bernard Butler soon.
ALTERED IMAGES HAVE KIND OF GONE DOWN IN HISTORY FOR THE BOUNCY COMMERCIAL POP HITS THAT MADE YOU FAMOUS, BUT WHEN YOU DELVE INTO THE THREE ALBUMS YOU MADE TOGETHER THERE'S A LOT OF DARKER STUFF IN THERE TOO WHICH, FOR ME AT LEAST, ALWAYS MADE YOU SUCH AN INTERESTING BAND… DID THOSE TWO DIFFERENT MUSICAL PATHS COME NATURALLY OR WAS IT MORE OF A CASE OF PLEASING YOURSELVES AND ALSO PLEASING A RECORD COMPANY?
I think it was mostly to do with us being so young and wanting to experiment in lots of different directions! Some of it worked, some of it not so much, but it was amazing to get the chance to be bold with our choices.
WHAT WOULD YOU SAY IS YOUR FAVOURITE ALTERED IMAGES SONG? AND WHY?
Oh, that changes all the time… but can't have a favourite really, I wouldn't want to hurt any of the other songs' feelings!
WHEN WE LAST TALKED YOU WERE LOOKING FORWARD TO MEETING SOME OF THE OTHER ACTS THAT WERE DOING HERE AND NOW, SINCE THEN YOU MUST HAVE MET LOADS MORE OF THEM BUT WHICH OF THEM WOULD YOU NOW CONSIDER PROPER FRIENDS?
I have so much respect for all of them. We have all had a very similar shared experience in many ways. We just all get it, and want to support each other, so it's a nice crowd to be part of.
AND TALKING OF OTHER ARTISTS, YOU'VE SAID THAT YOU'VE BEEN EMBARRASSED THAT GARY KEMP HAS ADMITTED HE WROTE SPANDAU BALLET'S 'TRUE' AFTER YOU GAVE HIM A COPY OF NABOKOV'S 'LOLITA', AND THAT THE SONG WAS INSPIRED BY HOW HE FELT ABOUT YOU AT THE TIME, SO THE QUESTION IS… IF YOU COULD GO BACK IN TIME WOULD YOU NOW NOT GIVE GARY THE BOOK, KNOWING THAT BY DOING SO YOU WOULD ALSO BE STOPPING THE WORLD GETTING 'TRUE'?
That's funny, but no I wouldn't change a thing.
AND FINALLY, AS SOMEONE WHO ALWAYS SEEMS TO HAVE MULTIPLE PROJECTS HAPPENING AT ONCE, WHAT ELSE IS HAPPENING FOR YOU AT THE MOMENT AND IN THE NEAR FUTURE?
I have a new cookery show that I'm hosting called 'Corner Shop Cook Off' which launches on February 17th on BBC Scotland, and which is great fun. I'm also going to start rehearsals for a play I'm doing which is also in Scotland. It's a Neil Simon comedy called 'Barefoot in the Park' which opens at the Pitlochry Festival Theatre and then transfers to the Royal Lyceum in Edinburgh over March and April. It's just fab to still be part of the profession I love. Thanks for asking about it.
Altered Images will be on tour in the UK throughout 2020…
FEBRUARY
20 – Edinburgh – The Liquid Room
21 – Glasgow – Oran Mor
MARCH
6 – Holmfirth – Picturedrome
7 – Bury St Edmunds – The Apex
MAY
7 – Reading – Sub 89
8 – Southend – Chinnerys
10 – Southampton – Engine Rooms
JULY
24 – Brighton – Chalk
JANUARY 2020
© RememberTheEighties.com / ThisIsNotRetro.com – Not to be reproduced in any form without written permission. Link to the site but please don't steal our content – thank you for your understanding and support!